Last weekend my family had a family reunion.  I was unable to go, but my mom and sister's family went and had a grand ole' time.  While there, they decided to pick me some cherries from my grandpa's cherry bushes.  (To learn more about what Bush Cherries are, GO HERE)
These cherry bushes are awesome.  They produce billions of cherries, I swear.  Okay, thousands…hundreds of thousands, or something like that.
I knew they were going to pick me some and I was pumped.  I figured I'd make a few batches of bush cherry jam (Munchkin's favorite).  I did not expect them to bring me this:
Do you know what that is?  That is eight bags, 5 lbs EACH of bush cherries (I know, I weighed them)!
They picked me FORTY POUNDS!!!
That is the awesomeness of my family, man.
So, I'll be making a LOT of bush cherry jam, and bush cherry "gogurts", and maybe even some BBQ sauce with a hint of bush cherry.
I also made a couple of batches of homemade Bush Cherry Nutri-Grain Bars.  SO much cheaper than the store-bought version, tastier too (in my humble opinion).
Before I post the recipe, I need to give credit where it belongs.  I found the original recipe here.
I haven't varied the recipe a lot, but I'll post the few changes I made below.  Enjoy!
Bush Cherry Nutri-Grain Bars
1 cup butter or margarine (I did half of each to cut cost and still keep the yummy butter taste)
1 cup brown sugar
1 cup whole wheat flour
1/2 cup all purpose flour
1/2 cup almond flour (if you don't have almond flour, you can just use regular.  I only have it because of my gluten free needs)
1 1/2 cup oats
1 tsp almond extract (I used vanilla because I didn't have almond)
2/3 cup jam of your choice (I used a low-sugar bush cherry jam/syrup that I made…and it turned out great!)
Preheat oven to 350 degrees F. Combine all the ingredients except for the jam, and mix well.  Press half of the mixture into a 9×13-inch greased baking pan.  Spread the jam on top.  Crumble the rest of the mixture over the top.  Bake for 20-25 minutes (I baked mine for the full 25).  Cool and cut into bars.
*I'm going to make a few more batches and freeze them individually for easy after school snacks.  I think I'll also try making them gluten free for me (cause they look and smell so good!) by substituting an all purpose GF flour for both the wheat and the all purpose flours, and by using the GF oats and GF vanilla.  YUM!
This recipe is linked up at: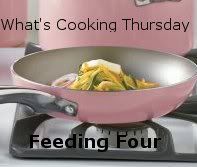 ---